Hello friends, I hope you're all doing well. Today I wanted to take a moment to not only talk about the books I've added to my TBR, but to spread some awareness in the Black Lives Matter movement.
There aren't any 'right' words to say about what has been going on in the world and as a white person I can't even begin to imagine or understand what Black people have gone through and what they continue to go through. All I can say is that I stand with you in solidarity and that I am working on doing and being better in becoming an ally.
I wanted to use my voice, and my blog to help show my support and to spread awareness to the many resources that have been circulating social media.
I shared these links in my May wrap up, but I want to re-share them in case anyone is looking for petitions to sign, places to donate and places to find more information.
https://www.wecantbreathenational.org
https://www.gofundme.com/f/justice-for-regis
---
I've decided to show the books I've added to my TBR to help showcase and amplify the voices of black authors. I realized that I need to be more diverse in my reading and the books below are just the beginning for me and I'm excited to dive in.
Books added to my TBR
When You Were Everything by: Ashley Woodfolk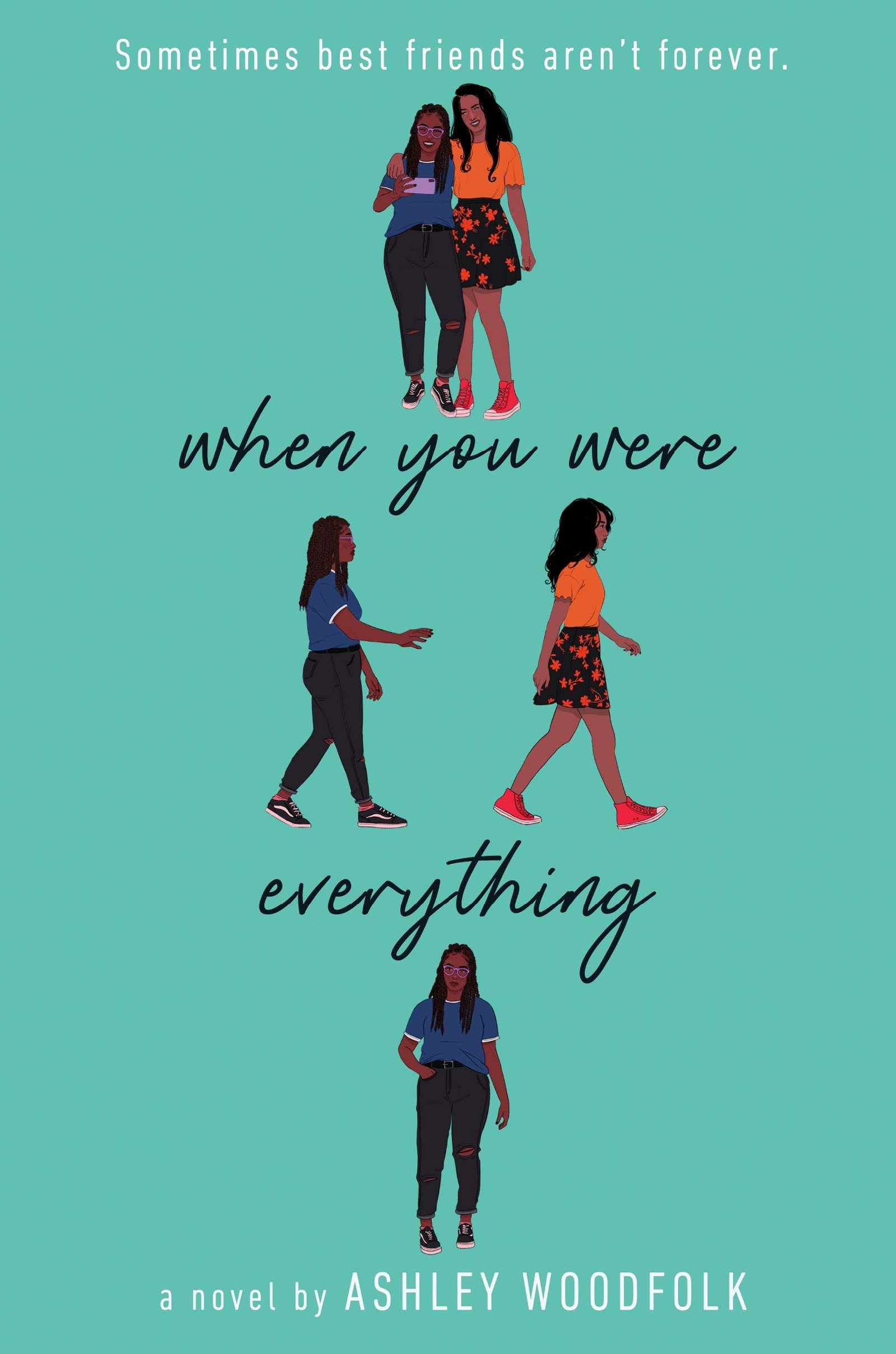 You can't rewrite the past, but you can always choose to start again.

It's been twenty-seven days since Cleo and Layla's friendship imploded.

Nearly a month since Cleo realized they'll never be besties again.

Now, Cleo wants to erase every memory, good or bad, that tethers her to her ex–best friend. But pretending Layla doesn't exist isn't as easy as Cleo hoped, especially after she's assigned to be Layla's tutor. Despite budding new friendships with other classmates—and a raging crush on a gorgeous boy named Dom—Cleo's turbulent past with Layla comes back to haunt them both.

Alternating between time lines of Then and Now, When You Were Everything blends past and present into an emotional story about the beauty of self-forgiveness, the promise of new beginnings, and the courage it takes to remain open to love.

Goodreads synopsis.
This has been on my radar since it came out earlier this year. I really need to get on this.
Felix Ever After by: Kacen Callender
Felix Love has never been in love—and, yes, he's painfully aware of the irony. He desperately wants to know what it's like and why it seems so easy for everyone but him to find someone. What's worse is that, even though he is proud of his identity, Felix also secretly fears that he's one marginalization too many—Black, queer, and transgender—to ever get his own happily-ever-after.

When an anonymous student begins sending him transphobic messages—after publicly posting Felix's deadname alongside images of him before he transitioned—Felix comes up with a plan for revenge. What he didn't count on: his catfish scenario landing him in a quasi–love triangle….

But as he navigates his complicated feelings, Felix begins a journey of questioning and self-discovery that helps redefine his most important relationship: how he feels about himself.

Felix Ever After is an honest and layered story about identity, falling in love, and recognizing the love you deserve.

Goodreads synposis.
I have heard nothing but amazing things about this, I definitely need to read this.
So You Want to Talk About Race by: Ijeoma Oluo
In So You Want to Talk About Race, Editor at Large of The Establishment Ijeoma Oluo offers a contemporary, accessible take on the racial landscape in America, addressing head-on such issues as privilege, police brutality, intersectionality, micro-aggressions, the Black Lives Matter movement, and the "N" word. Perfectly positioned to bridge the gap between people of color and white Americans struggling with race complexities, Oluo answers the questions readers don't dare ask, and explains the concepts that continue to elude everyday Americans.

Oluo is an exceptional writer with a rare ability to be straightforward, funny, and effective in her coverage of sensitive, hyper-charged issues in America. Her messages are passionate but finely tuned, and crystalize ideas that would otherwise be vague by empowering them with aha-moment clarity. Her writing brings to mind voices like Ta-Nehisi Coates and Roxane Gay, and Jessica Valenti in Full Frontal Feminism, and a young Gloria Naylor, particularly in Naylor's seminal essay "The Meaning of a Word."

Goodreads Synopsis.
This sounds like something that is going to help me educate myself further.
A Blade so Black by: L.L. McKinney
The first time the Nightmares came, it nearly cost Alice her life. Now she's trained to battle monstrous creatures in the dark dream realm known as Wonderland with magic weapons and hardcore fighting skills. Yet even warriors have a curfew.

Life in real-world Atlanta isn't always so simple, as Alice juggles an overprotective mom, a high-maintenance best friend, and a slipping GPA. Keeping the Nightmares at bay is turning into a full-time job. But when Alice's handsome and mysterious mentor is poisoned, she has to find the antidote by venturing deeper into Wonderland than she's ever gone before. And she'll need to use everything she's learned in both worlds to keep from losing her head . . . literally.

Goodreads synopsis.
The way the author, L.L. McKinney described this series… I was sold:
"What if Buffy fell down the rabbit hole instead of Alice? What if she was a bi Black girl from Atlanta?"
Clap When You Land by: Elizabeth Acevedo
Camino Rios lives for the summers when her father visits her in the Dominican Republic. But this time, on the day when his plane is supposed to land, Camino arrives at the airport to see crowds of crying people…

In New York City, Yahaira Rios is called to the principal's office, where her mother is waiting to tell her that her father, her hero, has died in a plane crash.

Separated by distance – and Papi's secrets – the two girls are forced to face a new reality in which their father is dead and their lives are forever altered. And then, when it seems like they've lost everything of their father, they learn of each other.

Papi's death uncovers all the painful truths he kept hidden, and the love he divided across an ocean. And now, Camino and Yahaira are both left to grapple with what this new sister means to them, and what it will now take to keep their dreams alive.

In a dual narrative novel in verse that brims with both grief and love, award-winning and bestselling author Elizabeth Acevedo writes about the devastation of loss, the difficulty of forgiveness, and the bittersweet bonds that shape our lives.

Goodreads synopsis.
Again, the blogging world has really love this, my interest has been peaked.
White Fragility. Why it's so Hard for White People to Talk about Racism by: Robin Diangelo
Referring to the defensive moves that white people make when challenged racially, white fragility is characterized by emotions such as anger, fear, and guilt and by behaviors including argumentation and silence. These behaviors, in turn, function to reinstate white racial equilibrium and prevent any meaningful cross-racial dialogue. In this in-depth exploration, anti-racist educator Robin DiAngelo examines how white fragility develops, how it protects racial inequality, and what can be done to engage more constructively.

Goodreads synopsis.
This is another book that I feel will help educate me further.
A Song of Wraths and Ruin by: Roseanne A. Brown
For Malik, the Solstasia festival is a chance to escape his war-stricken home and start a new life with his sisters in the prosperous desert city of Ziran. But when a vengeful spirit abducts Malik's younger sister, Nadia, as payment into the city, Malik strikes a fatal deal—kill Karina, Crown Princess of Ziran, for Nadia's freedom.

But Karina has deadly aspirations of her own. Her mother, the Sultana, has been assassinated; her court threatens mutiny; and Solstasia looms like a knife over her neck. Grief-stricken, Karina decides to resurrect her mother through ancient magic . . . requiring the beating heart of a king. And she knows just how to obtain one: by offering her hand in marriage to the victor of the Solstasia competition.

When Malik rigs his way into the contest, they are set on a course to destroy each other. But as attraction flares between them and ancient evils stir, will they be able to see their tasks to the death?

Goodreads synopsis.
I've seen nothing but wonderful things about this novel and I'm definitely intrigued!
---
I also want to leave some links to Canadian (Ontario only) Black-owned book stores.
117 Queen Street West, Brampton
779 Bathurst St, Toronto
1921 Gerrard Street, Toronto
---