Hello friends,happy Wednesday! Today I'm doing the Mystery Blogger Award. I was tagged by both Lois and David @Lois Reads Books, and Birdie @Birdie Bookworm. Thank you both so much for tagging me, I'm excited to get started so let's dive in!
The Rules:
Put the award logo/image on your blog
List the rules
Thank whoever nominated you and provide a link to their blog.
Mention the creator of the award and provide a link as well (Okoto Enigma @ Okoto Enigma's Blog)
Tell your readers 3 things about yourself
You nominate 10 – 20 people
Notify your nominees by commenting on their blog
Ask your nominees any 5 questions of your choice; with one weird or funny question (specify)
Share a link to your best post(s)
Three Things About Me:
My favourite magazine is Alternative Press Magazine, and I read it cover to cover. The reason I do that is because I heard Peyton Swayer from One Tree Hill say it, and I really looked up to her at the time, ever since I've been hooked. I'm currently issues behind (like 6) due to trying to knock books off my TBR and I feel insanely guilty for leaving it behind.
I have an obsession with podcasts. I load a bunch onto my iPod every week to listen to. I love to listen to them while reading (don't ask how I do it, but I do). My favourites are Gilmore Guys, Stuff You Should Know, and Reply All. You can read more about the podcasts I listen to in a post I wrote up: Let's Talk About… Podcasts.

RJ

I used to play the guitar. I sort of fell out of love playing it, plus I lost time for playing it. But I own two, an acoustic, and a red electric. The acoustic guitar I named RJ, (Ray-Jack, for guitar players Ray Toro from My Chemical Romance, and Jack Barakat from All Time Low) and the red one is named Shirley, I just thought that went well with red.

Shirley

Bonus: Since I was tagged twice, I'll give a bonus fact about myself: I'm a Toronto Maple Leaf fan and out of all the memorabilia I own, I've only bought one thing and it's a winter toque. Everything else I own my dad has purchased for me. A short list of things are: socks, mittens, pjs, jersey, t-shirt, hoodie, blankets (I have 2), travellers mug… you get the idea. Believe it or not my dad has more memorabilia than I do.
Lois and David's Questions:
1. If you could only take one book with you onto a dessert island, what would it be and why?
I feel like everyone knows this answer already, but it would definitely be The Picture of Dorian Gray by Oscar Wilde. Why, simply because I love reading the story. After I finish reading every year I always want to start at the beginning and just analyze and see how he characters went from point A to point B, it's rather fascinating.
2. If you could get everyone in the world to read one book, what would it be and why?
Can I say the same answer as above? Haha, okay no. I really don't know, maybe something by Stephen King; his work is insanely good. Maybe 11/22/63 by King, not to much horror, but a lot of crazy time travel, and American History.
3. What book would you get President Donald Trump to read?
Every book on the planet on how to be a better human? What a joke of a human being that guy is. Anyone see him with Angela Merkel last week? Ugh. Tbh, I don't think he'd ever read anything, but maybe Unfair by: Adam Benforado, which a non-fiction read that takes a look at how unfair and unjust the American criminal system is, and how racism plays a huge part.
4. What do you think the purpose of books should be in today's society?
To teach; to help us understand things we don't know, and to give us a better understanding of the world. I don't think that has ever changed, nor do I think it ever will. There is always something new to learn, and it's good to have books teach us in the form of stories, sometimes even in the form of essays.
5. Random Question: What is your dream job and why?
I've actually been thinking about this a lot lately, and I think I'd really like to move to Vancouver to proofread, and help write scripts for movies & TV shows. It feels weird admitting that since I haven't really.
Birdie's Questions:
1. If you had to read only one author for the rest of your life, who would it be and why?
I want to say Stephen King, but at the same time I don't because all his stuff starts to sound the same. Ugh I can't think of anyone because of this reason- why does this have to be so hard? Maybe J.K Rowling? I'm going to be reading some of her other non-Harry Potter work soon, I'm assuming it won't be the same…
2. Name one book that imprinted on your soul, and tell us why.
I'm sorry if this gets quite repetitive, but uhm, The Picture of Dorian Gray by Oscar Wilde. There is always new meaning to find in the book, and as I get older I can see, and better understand the way Dorian thinks about staying young. Plus the story and the writing is just brilliant.
3. Where's the most exciting place you've ever been?
I'm not going to lie, the Universal Studios just outside of London, England where they filmed Harry Potter was pretty freakin' amazing!  I still can't believe I got to do that.
4. What is the best recommendation you've ever received?
I've received so many over the years, but I'm going to say A Series of Unfortunate Events by Lemony Snicket. If I was never given the sixth book to the series to read by one of my good friends (yes I started with the sixth) I never would have fallen in love with it.
5. Name your favourite fictional character, what Hogwarts House would they be in and why?
I'm going to say Dorian Gray (sorry) and I
would put in probably in Slytherin. He's evil, but he's also quite smart, a leader and very cunning, need I say more?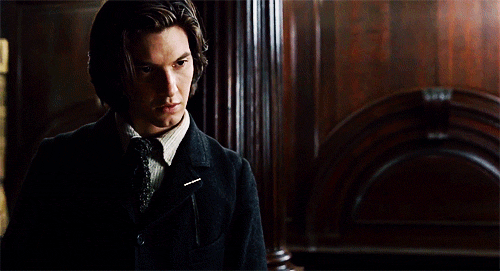 Nominations:
I feel like so many people have done this already so my tag list is going to be short. If you've already done this tag, please feel free to ignore!
Ali @Devouring Books and Lattes
Deanne @Deanne Writes About
Susan @Susan Loves Books
My Questions
(I'm sorry if these questions are lame)
Who is a character that inspires you to be a better person?
Is there a book character you could see as president, other than the current one?
What is your favourite book to TV/movie adaption?
Do you think your favourite colour determines what book covers you look at, and what books you buy?
Random question: Whatcha have for lunch today?