Hello, and welcome to throwback Thursday! Today I'm going to be re-reviewing Ellen Hopkins's trilogy Crank.
Read: May 2013
Rating: 4 Stars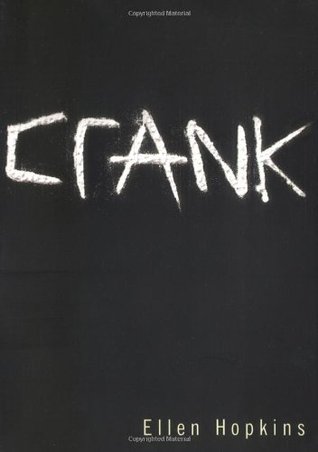 Crank by: Ellen Hopkins: The first novel in her series of poems books. This book is written different from a normal novel. There is a story that goes on, but it's told through poems, which gets the message across very well in fact. Kristina, a 17-year-old girl visits her dad, and becomes very addicted to the drug meth, and through the poems we get her sense of what she goes through and all the challenges she faces. This story is told remarkably. If it were written out like every other novel, the same message wouldn't have been quite clear. Written in poems the reader gets how disoriented her life has become; you get to feel how the main character feels. Overall for something different to read, this is worth it, it's quick paced and it gets you addicted.
Read: June 2013
Rating: 4 Stars
Glass by: Ellen Hopkins: The continuation of Crank. In this novel, Kristina now has a baby to look after, but she still has to fight "the monster" that is meth. Can she hold out, or will she go spiraling out of control. This novel is set up just as the first book was, but that doesn't mean it was boring, and by no means was it boring at all, this one was just as captivating as the first. Through the poems we feel Kristina's struggles that much more. The way the poems are written out too is a factor in good writing, and skill to make a reader feel that connected. These novels are like crank themselves, once you've started, you're hooked!
Read: July 2013
Rating: 4 Stars
Fallout by: Ellen Hopkins: The third and final chapter in the Crank trilogy. This time around it's 19 years later and Kristina's children are grown up and have found a voice of their own. This last novel is told in the perspective of her three oldest kids and what they have to face with a mother who doesn't care about them, and a father they don't know. The novel was set up like past ones in the format of poems that is easy to read, and is easy to feel their emotions. This novel was an interesting conclusion because it left the reader wanting more. Overall, it was a great way to lead the reader away from Kristina and toward her kids.