Hi everyone, today I'm going to be reviewing Ash by Malinda Lo!
I know, today is Tuesday, but I'm going to have to push Tuesday TV to Thursday this week due to not having enough time, and things popping up. So instead I give you my review of this twisted tale of Cinderella!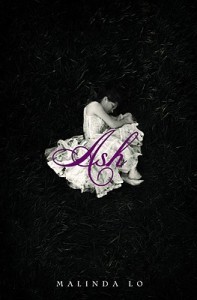 Ash by: Malinda Lo: The story of a girl named Ash. It's a simple tale, which follows the same storyline as another tale. Her mother passes away, leaving her father to remarry only for him to get sick and die leaving Ash with an evil stepmother, and evil stepsisters. Sound familiar? She then turns into the maid because they can't afford one, and one day they are asked to go to the ball where the prince will pick his bride. Obviously Ash is not invited, but with the help of her fairy, she makes it there. But there's a twist to this classic tale, and she has to choose between two people, one who is in love her with her, and the other who she is in love with. It's not an original plotline, but it has its interesting and unique own plot that makes it worth reading, but otherwise it's a remake of Cinderella.