Hello, today I'm going to be reviewing John Green's novel An Abundance of Katherines.
I just want to note that tomorrow I will be taking a break, so don't expect a review from me then, I will be back on Monday! 🙂
Not one of his most popular novels, and not one being turned into a major motion picture… just yet. It's very mathematical, and if you don't like, or understand math it's a bit of a turn off. But it's still a story told in the John Green fashion- very sophisticated sounding teenagers trying to find love.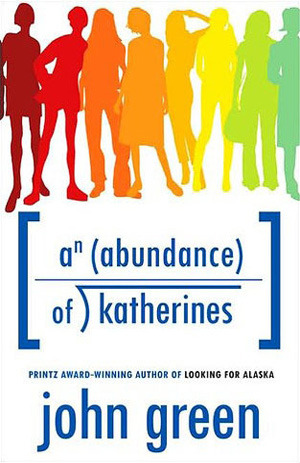 An Abundance of Katherines by: John Green: The story of a guy named Colin Singleton, and all he wants is to matter to the world. All his life 19 Katherine's have dumped him. So one day he and his best friend Hassan decide to go on a road trip. It leads them to Gutshot, Tennessee, a very small town. There they both meet new people, get jobs, and quite possibly fall in love. The novel is sweet, but also can be hard to read. First of all, if you're not into math, there is a lot of math that goes on in the novel (as previously stated). Colin is a genius, and wants to come up with a theorem about break-ups. It's quite fascinating, but it can also be somewhat boring. The novel doesn't lack in originality, or style because it is surely something different to read. Green has a way of finding small things in life and making them bigger, and this novel is no exception. Creating solid, fully rounded characters and placing them in plotlines that fit is what made this novel. Overall, it's a quirky little novel.