Hi everyone,  I'm posting a book review today instead of TV Tuesday just because I'm a little low in content for TV Tuesday, hope you don't mind! I'm going to be reviewing Laurie Halse Anderson's novel, The Impossible Knife of Memory.
Just from the title I knew it was going to be quite the novel, and I was right.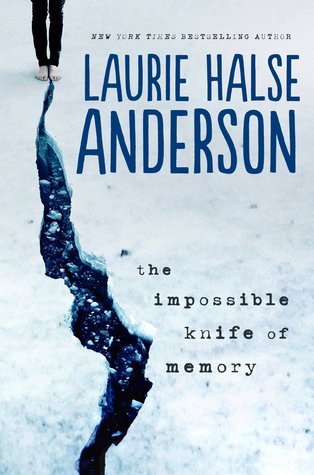 The Impossible Knife of Memory by: Laurie Halse Anderson: The story of a teenage girl named Hayley who has lived a different life from the rest of her peers. Her father is a war veteran who has seen and done things that has made him go crazy. She's had to follow him around all her life, but now they have agreed to stay in one place, and she is to live like a normal high schooler, only that doesn't work out. Things get crazy, and she tries to save her father more and more until they both can't take it and it gets to the extreme. It's a very well told story; the plotline hooks the reader from the first page. The reader also gets a really good feel for Hayley, as if she was a real person, she is so dynamic and well rounded. The author does a good job at subtle plotlines with love stories. It was a really great novel to read about love, not just the romantic kind, but also the unconditional kind that a parent, or a child has for one another.