Today I'm going to be reviewing Linked and the sequel, Unravel by Imogen Howard.
Linked by: Imogen Howard: It's a story that takes place many, many, many years in the future where the concept of twins doesn't exist anymore. The main character Elissa isn't normal; in fact she's never normal. She supposed to go into surgery because she's having hallucinations, but really she's having visions. She meets a girl who looks exactly like her, her twin, and they run away from the government because her twin, Lin, isn't classified as a 'real human'. It's a really interesting and enjoyable plotline. The author has thrown in a romantic plotline that just lacks believability. It was like a weak attempt at a love story, and it really didn't fit in with the rest of the story, it was just so forced. It turned off the reader from wanting to read the rest because it wasn't good. But if you can get over that minor subplotline, the rest is really well thought out and executed.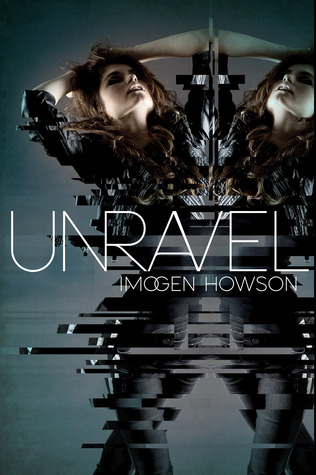 Unravel by: Imogen Howard: The sequel to the novel Linked, where the story continues where it left off. Elissa and Lin are twins, but in this world, twins are a thing of the past, and society thinks that Lin is Lissa's clone who is dangerous. They fled their planet to get away from it all, but turned back around to save, not only the planet, but Caden's, Lissa's boyfriend, parents. In this novel everything unravels, and the reader finds out the truth about the twins, or as they are called 'spares' and more twins are introduced. The plotline is entertaining, but gets a little flat throughout. The main character gets rather annoying to read, because she whines about her boyfriend not liking her, her sister not loving her, blah, blah, blah. The extra drama is tedious and hard to read, but overall, a different spin on a new world.