Hi everyone. I seem to have a theme going this week, and that's children's fiction. I promise this is the last for this week! Today I'm going to be reviewing Alyson Noel's Riley Bloom series.
Yes, this character is based off another Noel series the Immortals (one day I'll post that review), but until then here's the Riley Bloom series.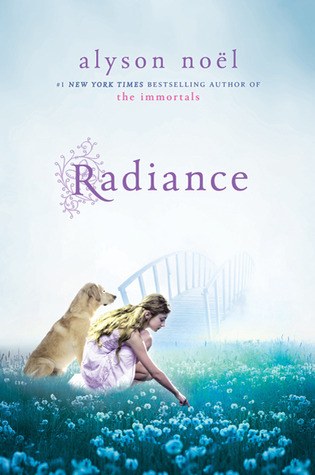 Radiance by: Alyson Noel: The first novel in the Riley Bloom novels. These novels are a spin off of her other series, the Immortals, where in this novel our main character is Riley Bloom, a 12-year-old girl who has died in a car crash. She is the younger sister to Ever Bloom, the main character in the Immortal series. In this novel, the reader finds out where she went after the accident; a place called Here & Now where she has to complete a task in order to move ahead in this new life. It's a pretty simple novel, and also classified as a children's novel, that doesn't take long to read. The plotline is very basic and nothing stands out in it. The character of Riley is kinda flat, sure she finds out more and more about herself, and she evolves as the novel comes to its end, but she's boring. Overall, it's a boring first novel; maybe the second one will be more promising.
Shimmer by: Alyson Noel: The second novel in the Riley Bloom series. In this novel Riley has yet another problem to face. Now that she is in training to be a Soul Catcher and help lost souls cross over she takes it upon herself to help a bunch of people cross over while on vacation. As she tries to help these people stuck in a girl's bubble of misery, her own friends get sucked into the bubble as well. Now, not only does she have save strangers, but also her friends. It's a better plotline and story than the first novel in the series. Things aren't as cheesy and have more of a serious meaning towards it. The novel is maturing with more complex undertones of facing problems. Overall, it is a much better novel than the first.
Dreamland by: Alyson Noel: The third novel in the Riley Bloom series is where our main character, Riley, learns a lot about herself. She's tired of being twelve and wants to prove herself to everyone that she can be thirteen. She makes her way to a place called Dreamland where she meets a boy named Satchel who's a troubled ghost. She tries her soul catcher ways on him, but only gets interrupted. Throughout the novel she finds out what it means to be a soul catcher, and why she is one as well as what it means to grow up. The plotline was good, entertaining, and it had a lot of learning points, especially for younger audiences. As the novels continue the main character starts to shape up just a little bit making her rounder and whole. Overall, the third novel was a good lesson that tweens can relate to.
Whisper by: Alyson Noel: The fourth and final novel in the Riley Bloom series. Riley has been assigned to a soul catching case in Rome to help a gladiator move on. It's her toughest challenge yet, and as she finds out she's stuck in a constant loop, almost forgetting who she is. Will Riley be able to help this misguided ghost, and will she ever turn thirteen like she's always hoped, all those answers and more are in this novel. The plot in this novel is quite different from the past three novels, which made it fun and engaging to read. Riley has become a well-rounded character who learns a lot about herself, and the people she is friends with. Overall, the series started off rough, but really got better as the novels continued. Not a recommended read, but if you've read Noel's other novels, especially the Immortals series, read this one.